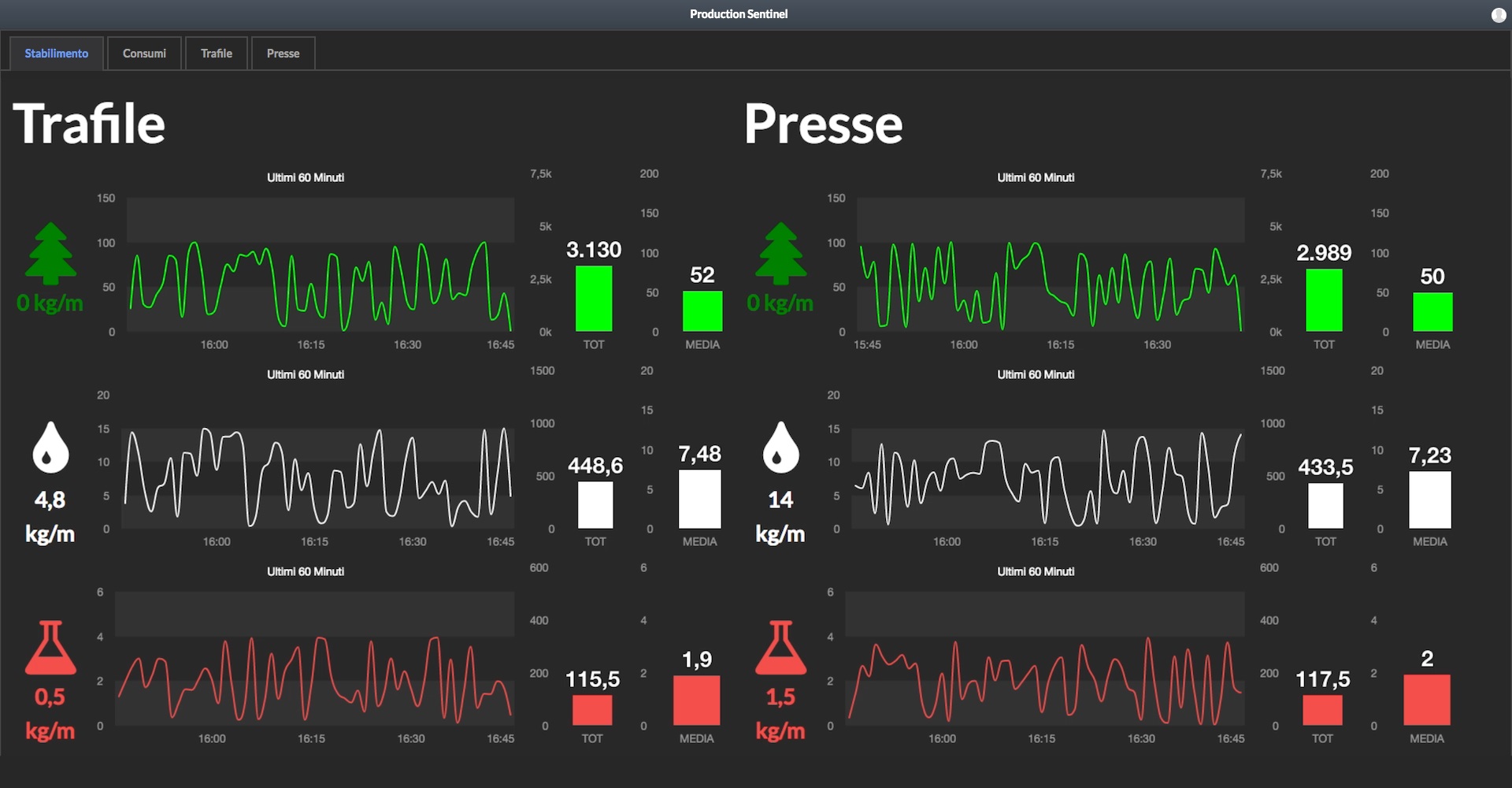 Monitoring production lines
Production Sentinel helps the management, the management control, and the quality departments by preventing them having to physically visit the production lines in order to find out about performance and consumption of materials. This service allows the individual production machines to be monitored and users to find out raw material stock levels, so that they can be reordered on time and wastage can be avoided.
It can even be sophisticated enough to include predictive, proactive maintenance!
The control panel clearly displays errors or alarms for the different machines in the production line. You can also find out how many pieces are produced at agreed time intervals and with variable sampling rates.
The power of Production Sentinel and its adaptability to different applications improve both the operators'; work and production by making it easier to understand production parameters, power consumption, the reasons for downtime, and the safety status of plants and systems.
Real-time monitoring of production parameters of interest can be performed with any mobile device, smartphone, or tablet, avoiding the need to be right next to machine and systems, watching over them. This means you can keep an eye on the various production parameters that can help you better manage all your production costs.
For more innovative customers
For customers who want to be on the cutting edge of technology, Production Sentinel allows you to enable fog and edge computing services. An evolution of cloud computing, fog computing is useful for IoT applications, allowing computing power to be distributed and enabling faster data analysis system response times.
Fog computing allows complex processing to be performed as physically close to production lines as possible, offering great advantages for:
sampling rates
data availability
usability of the service by the user
The result? It helps the cloud interpret (i.e. via central processing) the millions of data items generated, enabling the complicated calculations involved in machine learning and predictive analysis.
Fog and edge computing allow you to virtualise PLCs in the factory on unique hardware devices, while rendering them remotely accessible, with significant savings in terms of intervention times and efficiency, cutting down costs remarkably. For example, with PLC virtualisation, in the case of revamping, you no longer need to purchase dozens of these components to make "the new line" work.
Production Sentinel Experience: ECOBLOKS
For ECOBLOKS, Production Sentinel controls the consumption of raw materials used for the production of blocks, such as wood waste, paraffin, thermosetting glues, and water, working directly with the production machines.
Production Sentinel is also in charge of monitoring the physical variables of the production plant, such as temperature and urea usage.
This monitoring shows the progress of production of both useful material and waste, while also providing information on the sizes and the amounts (in cubic metres) produced every day, week, or month, or according to the time intervals that can be set, as required, using the control panel.
Find out more about Production Sentinel and ECOBLOKS